This 5,435 km² tropical island located to the west of Bali, is actually a part of a province called West Nusa Tenggara or Nusa Tenggara Barat, and is surrounded by many small islands that are called "Gilis" by the local people, and which may be even better known than the main island since Gili Air, Gili Meno and Gili Trawangan, on the north west coast are widely known as great party islands! The main island like many parts of Indonesia – and the world – has suffered from the collapse of tourism during the pandemic and is just rebuilding now. This article is just a quick glimpse of what awaits you there when you get the opportunity to go back. But the extended story will be in our Sept/Oct print issue.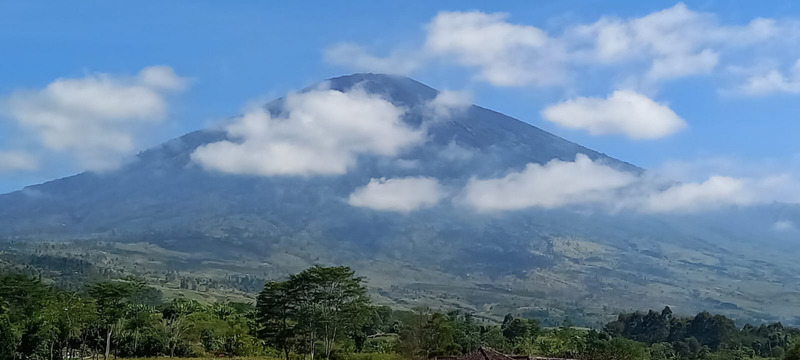 The invisible but very real "Wallace Line" runs between Bali and Lombok dividing the wildlife of Asia and Australasia, so in Lombok you can find various plants and animals that can only be found in Australia, with the east side of the island more influenced by Australian flora and fauna. One thing that will instantly notice about Lombok –and honestly you will be impressed – are the mountains which rise majestically almost from the shore line and end up at the dominant and towering volcanic Mount Rinjani which at 3,726 meters is the highest point of Lombok but amazingly has a lake in its caldera called Segara Anak. This is a major attraction for trekkers who congregate in the north of the island to make the 2 and 3 day hikes up the mountain.
Lombok has a major ethnic group called the Sasak people, some of whom still stay in traditional villages which are worth visiting for their handicrafts and wood work. About 85% from more than 2,8 million Lombok inhabitants are Sasak who are mostly Moslem and are a big influence on Lombok culture. But there is also influence from the Balinese Hindu, who have also made their home there. Lombok is divided into five regencies: North Lombok, West Lombok, Central Lombok and East Lombok. The head of administration is in Mataram city that is located in West Lombok.
The beaches are probably the major attraction of Lombok, but the underwater life is also incredibly beautiful, and there is a very good diving industry, with some great and easily accessed locations. Surfers also come to Lombok, especially South Lombok to find some challenging waves. South Lombok is considered one of the world best places to surf.
Reaching Lombok is easy due to the availability of International Airport and various land and sea transportation. Lombok International Airport is located in Central Lombok with easy access to the south and the new development at Mandalika, but makes it a bit further to go north to the old resort area of Senggigi and the boats to the Gilis which is why many people now arrive by the fast boat service from Bali direct to the north.
Just as a preview to the upcoming story in our print issue we bring you a quick look at two wonderful but very different hotels. Tugu Lombok is an absolute classical dream on the northwest coast. Low rise and more like a museum than a hotel filled with art and antiquities. Pullman Mandalika is brand new and ultra modern with all the amenities and luxuries you would wish for on the south coast right next to the recently built Moto GP track. Here they are!
Tugu Lombok
Tugu Lombok is located on miles of pristine virgin white sand beach of Sire, on the northwest coast of the island, 15 minutes boat ride across the Gili islands and framed by the majestic sunrise over Mount Rinjani.
A loving testament to the long-forgotten culture of Lombok the hotel is surrounded with chapters from the romantic epic of the Mahabharata through hundreds of beautiful artworks that are complemented with breathtaking views, various dining options and award-winning Indonesian spa offerings. It is a place of remarkable peace, beauty and serenity. With honestly facilities that defy description! For example:
Kokok Pletok Restaurant
A rustic open air space with 15 meter tall thatched ceiling overlooking the ocean, lotus ponds and the tropical landscape, serving fine international, Asian-tinged, oriental and authentic Indonesian cuisine for which Tugu is renown.
The name 'Kokok Pletok' is derived from the sound that the rooster makes, and the extraordinarily long roof is decorated by a giant Lombok rooster that can be seen from the sea and miles away. See what we mean! Then there is:
Lara Djonggrang Bar
A traditional hut with hundred-year-old thick wooden benches and tables, a long old teak bar, oil lamps and semi-open bamboo windows and beautiful artworks.
Lara Djonggrang bar is chicly primitive, with sweet traditional tunes during the day and sensual lounge music playing in the evening with a brick-walled wine cellar. There is really nothing like this.
Every room, well they aren't really rooms , but suites and villas, is unique and spread over a huge lush green area, next to a long, clean white sand beach, where you can have breakfast, lunch and dinner if you please, and afternoon tea on the beach is compulsory! It is a magical experience for a day or a month.
Hotel Tugu Lombok
Jl. Sigar Penjalin Village • Sire Beach • Tanjung • Lombok
T: +62 370 6120 111 | M: +62 81 937 995 566
Enquiries : lombok@tuguhotels.com
Pullman Lombok Mandalika Beach Resort (Opening August 2022)
Pullman Hotels are renowned and respected for their ability to combine lifestyle and design, for business and leisure and the brand new Pullman Lombok Mandalika is no exception. Ready to be fully open in September this year, but having already hosted the stars of the first international Moto GP and several other major events, this beautifully presented hotel is set to bring a whole new set of visitors to what has been a very sleepy, laid-back, surfer and very casual area in Kuta Lombok.
They are inviting visitors to "treat yourself in one of our stylish & well-designated rooms and feel the sea breeze right on your own balcony, or upgrade your staying experience in one of our sophisticated private suites and villas" Sounds good doesn't it? Here's what the General Manager Vincent Wybier, has to say:
"Pullman Lombok Mandalika Beach Resort is a bold, charismatic destination in Kuta Mandalika, a secluded bay on Lombok's southern coast. The beachfront resort is surrounded by verdant hills and spectacular Indian Ocean views. Relax in 257 stylish, extra spacious rooms, suites and villas. Connect & celebrate in versatile event spaces. The resort is just a stone's throw from the iconic Pertamina Mandalika International Street Circuit and a quick 20-minute drive from Lombok International Airport."
All rooms, suites and villas are perfectly designed with local heritage touch featuring outdoor terrace, garden or balcony with modern equipment, a far cry form the rustic charm of the Tugu but equally valid in today's world where choice is everything!
The surroundings in Mandalika/ Kuta are a strange but exciting mixture of the past and the future, with the ultra- modern racetrack on one side, with pristine and extraordinarily beautiful beaches beyond, and the simple laid back fun of Kuta, on the other. While just a few minutes drive up in the hills are some remarkable developments like Siwa , a bar and restaurant which is perched on the top of the hill with unbelievable views. All well worth a visit, that's for sure.
We return in more detail in our September issue with more accommodation options , more tours and more ideas. Join us then
Pullman Lombok Mandalika Beach Resort (Opening August 2022)
ITDC Tourism Complex BS2 Kuta
83573 Central Lombok Indonesia
Telephone +62 370 7525100 Contact emailHA1K2@accor.com