A new restaurant in Jakarta serving traditional and contemporary menus where diners will experience the richness of Indonesian spices and exoticism with international tastes, and the design of the rooms takes guests on a journey to the East Indies.I Photos Smriti Jakarta.
The presence of Smiriti Jakarta in the Tanah Abang Timur area seems to give a new vibe of nostalgia for the area's heyday. A few years back, Tanah Abang Timur which is known by his short name 'Tanamur' was a destination for entertainment and nightlife. Tanamur which was also refers to the first and oldest discotheque in town was once a hub for Jakarta's upper class and socialites to enjoy the merriment of the city, until it was closed in 2005.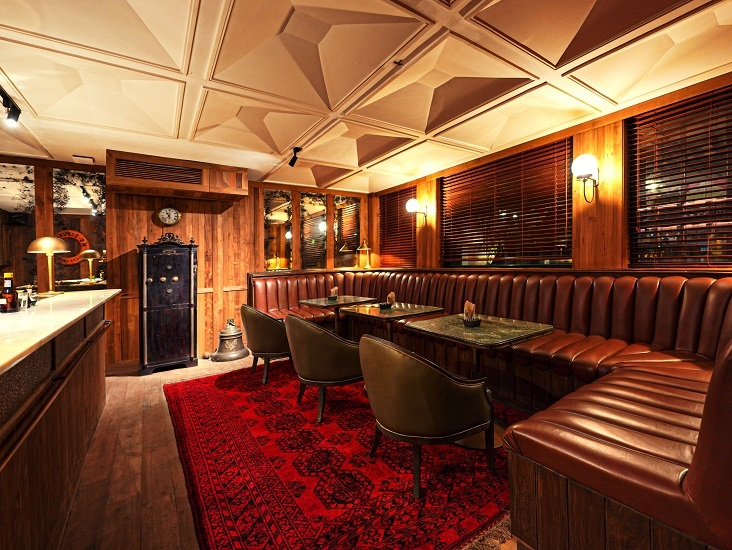 With the spirit of reviving that vivacity, Smriti Jakarta takes part in a different way, through contemporary Indonesian cuisine, curated spaces, and entertainment.
Entering the restaurant, guests are welcomed with wooden rustic and humble doors that open up to an area that is adorned with a wine cellar filled with the restaurant's wine collection, old books, and ancient weapons. Guests will find a Whisky Bar in front which is in line with main dining area. Your eyes can travel to some antiques and trinkets bringing back memories of Sunda Kelapa, and old port where the Silk Road trades happened in Batavia. Two mezzanine areas which have two spacious private rooms also spark with Indonesia's colonialism era.
The dishes and drinks will also take the guests on the journey of the old East Indies. For the first edition, the restaurant highlights some dishes originating from Sumatra and Java. Smriti Jakarta's Head Chef, Harum Indra cleverly puts a thoughtful effort into creating unique taste in his creations.
For Sumatrans dishes, expect the famous Steak Saus Rendang, US beef short ribs steak with rendang sauce served with eggplant and fried cassava, which is Josper grilled instead of stewed. Inspired by Indra's grandma-in-law recipe from Aceh, Chef Indra creates Tuna Asem Udeng, marinated raw bluefin tuna belly and shrimp with red chili, and bilimbi relish that remind us of ceviche.
"I think the dishes in Smriti Jakarta are mostly resonating with my favourite food from Sumatra and Java-food that I can eat everyday. I try to make it different by using some techniques that I learned from overseas and the best possible ingredients that we can source. Also, I am so proud that our menu is very collaborative because I developed the dishes together with all of my team, so every food has a different personality," adds Chef Indra.
More offers to taste the rich of Indonesia's spices and flavors, you can choose its contemporary delights, such as Oyster Bakar, grilled premium oyster with Javanese spice butter, and Udang Bakar Saus Madu, grilled black tiger prawn with aromatic chili relish and honey.
To complement the truly Indonesian taste, you can choose a vegetable menu, such as Oseng Dedaunan, wok-sauteed cassava and papaya leaves with crispy anchovy, and Bobor Jamur Asap, light vegetable curry with smoked mushrooms and Javanese style mashed tempe fritters. All you can enjoy with steamed basmati rice also assorted crackers and sambals. And, you'll not refuse when the server serve a Klepon Cake for your dessert, a Pandan sponge cake with coconut mousse, candied coconut, and brown butter katte tong.
Some must-tried signature mocktails and cocktails like Green Detox, Smriti Milk Punch, Batavia, Bon Nuts, C & Doll, Pixel, Kosh Moe and Mark & Rita will take you on an interesting journey to the Archipelago. Batavia, for example, is a whiskey mangosteen cocktail that represents Indonesia as one of the top tropical fruit producers in the world. Aside from that, Mark & Rita is a smart twist on the classic Margarita. From the name itself, Mark represents the "masculine" charcoal and Himalayan salt lollipop whilst Rita is the "feminine" tequila ready to be sipped. A perfect couple to end the night at Smriti Jakarta.
Smriti Jakarta
Jalan Tanah Abang Timur No. 3
Central Jakarta, 10110
T: +62 812 8206 2121 (WhatsApp)
W: www.smritijakarta.com
IG: @smriti_jakarta