Julia Suryakusuma, who was born on 19th July 1954, is considered one of the most influential feminist scholars of Indonesia and her writings are cited widely, both nationally and internationally. As one of the intellectual pioneers of the feminist movement, she has influenced three generations of feminists, and is often considered the "grandmother" of Indonesian feminist thought. Last year, she was decorated by the Belgian King for her decades long commitment to human and women's rights, the freedom of thinking reflected in her writing, and her courage to debunk long-held "myths" and to speak truth to power. Recently, she set up a Gender and Democracy Centre to further promote the feminist and democratic cause in Indonesia. She recently met with Now! Jakarta's Alistair Speirs who invited her to an interview to get up to date with her life and thoughts.
This is our interview with her.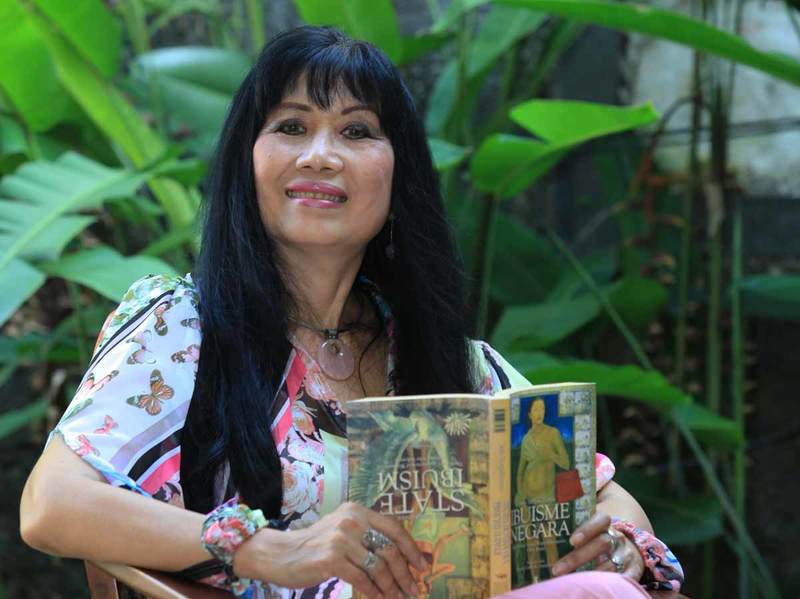 I am a writer, columnist, author, intellectual, scholar, activist and open-minded Muslim whose belief in human rights, justice, equality, freedom of expression, and in Indonesia's pluralist "Unity in Diversity" slogan underlies everything I do and write about. As a feminist, I believe in "the personal is political", which gives a humanistic edge to the study and understanding of our patriarchal society and politics. As the daughter of a diplomat, born in India and brought up in Europe, I have both a nationalist and internationalist, insider-outsider perspective, which shapes my vision and actions.
I made my debut as a writer in 1971 at age 17 by winning several writing competitions. At university I studied psychology, sociology, anthropology and politics which allows me to take the multidisciplinary approach needed to deal with complex issues in Indonesia and the world.
I have written a number of influential books, the most well-known being State Ibuism, based on my 1988 MSc. thesis. It has been a classic for over 30 years and has become a "household name", certainly among gender activists, academics and researchers. State Ibuism was the first gendered analysis of Soeharto's New Order regime (1966-1998) which debunked and dismantled the workings of the powerful, authoritarian militaristic state – a dangerously, 'subversive' thing to do then. State Ibuism was published as a bilingual book in 2011, republished in 2021 in Indonesian only, and recently translated into Japanese.
The second most well known book is Julia's Jihad (2013) – an anthology of my columns from The Jakarta Post and Tempo news magazine. I am often seen as Indonesia's most controversial columnist: fearlessly bold, critically analytical, shooting down hypocrisy, debunking myths and lies, speaking truth to power, but at the same time witty and funny, with a distinctive style. There are also Korean and Indonesian versions of Julia's Jihad.
Due to my achievements as a scholar and activist, as well as my decades long commitment to human and women's rights, I was conferred the Order of the Crown medal by the Belgian King, "a highly regarded honorific distinction only rarely attributed to non-Belgian personalities of particular merit", as Stephane de Loecker, Belgian ambassador said in his speech during the award ceremony on March 10, 2021 in Jakarta.
In January this year I set up and became the director of the Gender and Democracy Centre (GDC) for LP3ES, the Institute for Social and Economic Research, Education and Information.
LP3ES is one of the biggest and oldest NGOs in Indonesia, founded in 1971 by a group of student intellectuals and activists. It is a well-known and respected NGO, but in the 50 years of its existence, there were no women in the top decision making positions and no gender perspective. On their 50th anniversary in August last year, I criticised them heavily for this, and as a result, they asked me to set up the gender centre.
Internally, I would like to raise gender-awareness within LP3ES itself, and for a gender perspective to be integrated within its programs so that LP3ES truly "walks the talk".
I have other ambitious programs for the centre: besides discussions, webinars, talks, I would like to conduct research on neglected but important issues that would have a bearing on improving women's lives. Research based publications would also be an important part of our activities as well as gender training and gender advocacy. All of this with an historical, political, sociological as well as grass-roots perspectives. The planned activities of the GDC are in fact in line with LP3ES' four pillars: research; education and community development; publishing; and overseas network development.
The GDC is in an embryonic stage, and still in the process of building its foundation. We hope to collaborate with both national and international bodies who have common goals, so as to maximise our impact, effectiveness and outreach. Naturally we will need to secure funding without which our efforts and activities would be very limited.
Am I happy with the progress made on the very sensitive subjects of women's rights, LGBT rights, sexual harassment and violence, child marriage, etc? No, of course not. Advances have been made, true, but backlash invariably follows. While the feminist movement has grown and become stronger and more sophisticated, forging alliances with other groups (e.g. environmental, human rights, LGBT, etc.), the polarization between progressive and reactionary societal forces have also sharpened.
The stumbling blocks are many: deeply entrenched patriarchal mindsets, the decline of democracy in Indonesia, the rise of oligarchs, and reactionary interpretations of Islam – the Quran and Hadits – for women as well as society in general.
The future is in the hands of the young, so regeneration will be an integral part of all the GDC activities, as it is at LP3ES in general. At the same time, it is important to draw lessons from history. This is why the first book I am planning for the GDC is about the progressive vision Sukarno, Indonesia's first president, had for women's role during the revolutionary period. This vision needs to be revived, and a progressive social construction of womanhood propagated, to counter the powerful reactionary forces that currently dominate the nation.
Against all odds, the feminist movement in Indonesia has grown, and the initially uneasy, now very friendly collaboration between secular and Muslim feminists has set an example for other Muslim nations. It has yet to reach the critical mass needed to effect real change for the betterment of Indonesian society, but these things take time and a committed and concerted effort by both civil society groups and government agencies.
Feminism is part-and-parcel of democratization, and woman and men of all ages have to work hand-in -hand to face the incredible challenges we are all facing in an increasingly unstable world fraught with serious crises. Both personally, and as the director of the GDC, this is what we hope to contribute to, in whatever way we can.
NOW! Jakarta thanks you for this inspiring overview of your life and works and wishes you the very best in your continued fight for what is right.