I don't know where I first saw this but it is a really fun way of looking at the sad state we have got ourselves into as a planet. I would love to credit someone for this great little story, but I can't remember where I got it! I might even have written it myself!
Mother Earth is having a problem keeping her family happy: her husband is still off cutting down trees and digging for coal to keep the family finances going, and refuses to stop because he is facing increasing medical bills from her daughter who is suffering from a series of never-ending illnesses. He just won't stop even though all the neighbours and even some of his best friends have told him that what he is doing is wrong.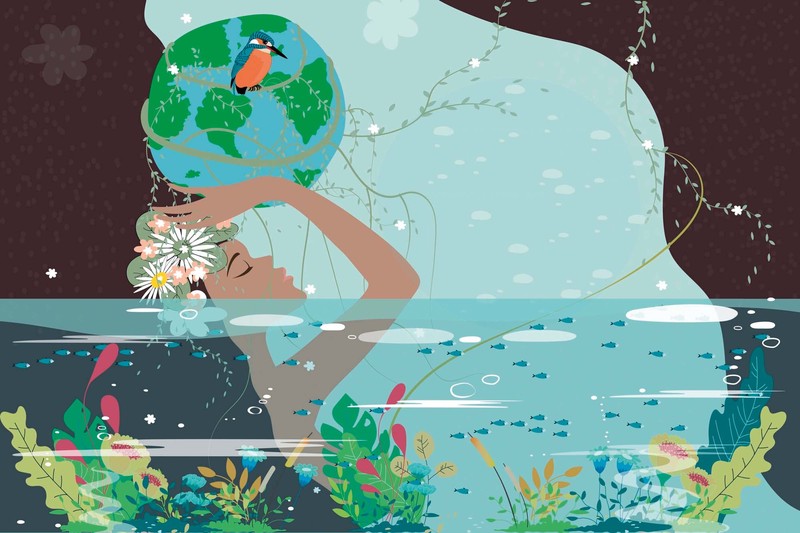 "Who will pay the bills if I stop" he asks angrily "we have no other income since our son is more concerned about melting ice caps and forest fires than doing real work".
As the pivotal person of the family Mother tries to keep the balance between the father's economic necessities, and the next generation's challenges with health and climate change and she is losing her patience.
"Dad" she asks quietly "are you sure it isn't your work that's causing our daughter to be ill and our son to be battling the environment?"
"Nonsense "he shouts "I've been doing this for 50 years and I haven't harmed anyone or anything".
Isn't this exactly where we are today in Indonesia if not the whole world. We are struggling to give up the old ways in the face of almost indisputable evidence that we are indeed causing all the damage that we ourselves are suffering from. But because the link between coal fired power stations, 20 million motor cycles and perhaps 30 million hectares of plantations that used to be primary forests, and the floods in Germany, and fires in California is not really visible, we assume there is no cause-and-effect so do nothing. Well, not nothing, but not enough.
Fortunately, there are a number of great organisations worldwide who are addressing these issues – as well as the huge outpouring of hot air and promises at COP26 and other well-meaning eco-fests (where 95% of the delegates fly in Business Class from all over the world!!) such as The Ellen MacArthur Foundation who are pursuing a worldwide circular economy, and WWF who are working with WRI and HSBC in Indonesia to transition businesses to renewable energy.
Then there is Greeneration Foundation who have brought together a whole bunch of experts who not only identified what we are doing wrong, but identified what we can to change it , in a really excellent three day webinar The Indonesia Circular Economy Forum which will happen on the 5-7th October this year and you can link to here: https://greeneration.org/