Museum MACAN in collaboration with UOB announced their latest art space for children titled Kembara Biru (Traveling Blues) to encourage them to take a pause and a break from their digital screens, and find joy in making things with their hands. The exhibition invites children and families to explore the meaning of 'home' with artist Theresia Agustina Sitompul.
UOB Museum MACAN Children's Art Space Commission again presents an attractive exhibition featuring senior Indonesian printmaking artist Theresia Agustina Sitompul who is well known for her exploration of printmaking, drawing, and installation, each of which carries her highly personal ideas and observations of Indonesian society and community.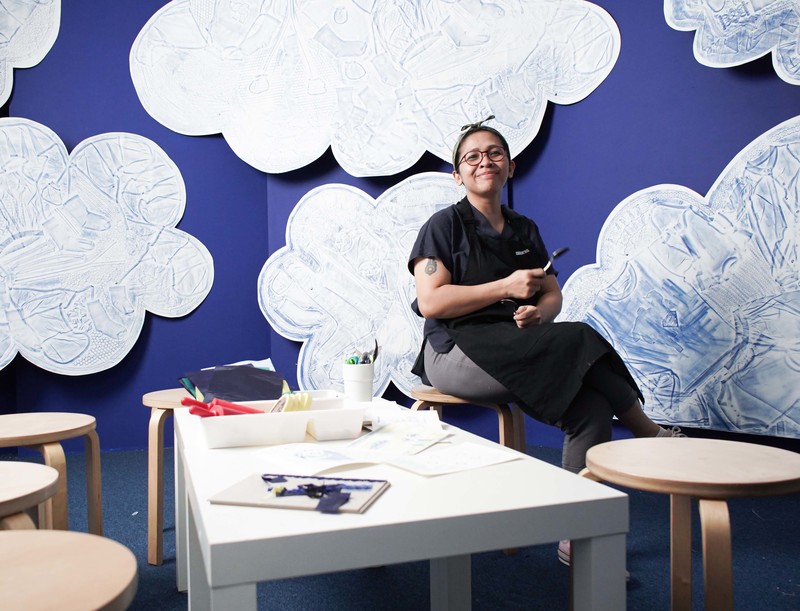 Opened on 9th April, Theresia Agustina Sitompul's Kembara Biru (Traveling Blues) corresponds to the shifting activities taking place in our homes since the emergence of the pandemic. Now our homes serve not only as domestic spaces but also offices and schools. This multi-functionality reflects Theresia's own numerous roles: as a mother, an educator, and artist.  
The exhibition is inspired by the artist's reflection on her experience staying at home during periods of quarantine, transforming kitchen tables and living rooms into playgrounds of the imagination, as children and families interact and learn in a fun environment.
Using carbon paper as her main artistic material, with everyday small objects like buttons and bandages, Theresia encourages children to pause and step away from their digital screens, explore their domestic environments, and rediscover the joy in creating things using their own hands. She believes that everyone can make art from the simplest materials.
The exhibition features both a physical installation and activities at Museum MACAN, as well as a suite of online activities that can be explored at home and within the classroom. Visitors to the museum will encounter a huge soft sculptural installation made of a mix of light fabric materials. Taking the shape of a cloud-like form, inspired by a shirt with multiple arms and sleeves, it portrays the multiple roles and possibilities of manual creation.
Visitors are able to touch and engage with the fabric installation. Within the space, there will be multiple paper clouds, a recurring theme throughout the installations, that symbolises endless imagination, happy days and well-wishes. These large cloud formations have transparent pockets, in which visitors are invited to attach the artworks created on-site and at school/home, using available paper and carbon paper materials.
"Children's imaginations are like the blue sky–they are bright, cheerful, and boundless. So why focus on the limitations when we can explore the possibilities? We have two hands that can create a million amazing things. We may be stuck in our own homes, but we can always make good art from the simplest materials. Kembara Biru (Traveling Blues) invites us to pause and take a short break from the digital screens that connect us with those afar. This project reengages us with the little things that are near and dear: our home, our hands, and our creative mind," the artist said.
As part of Theresia Agustina Sitompul: Kembara Biru (Traveling Blues), the exhibition has also been designed to connect students and classrooms across Indonesia. 12 schools from 10 provinces will receive materials and kits to allow them to take part in a series of online workshops.
The workshops have been devised by the artist to encourage children across the country to join in. The schools can choose to send their students' creations back to the Museum, where they will be included within the installation or encourage them to create their own mini exhibitions and presentations within their classrooms. Through this process the artist reminds us that art can be created everywhere–and the value of sharing our creative endeavours within our communities.
To encourage a groundswell of creative activity and exhibition making at home, these tutorials and workshops will be made publicly accessible on Museum MACAN's YouTube and social media channels.
The UOB Museum MACAN Children's Art Space Commissions are initiated by Museum MACAN to support arts education in Indonesia, and are supported by UOB, the Museum MACAN's major education partner. Working with leading artists, these specially designed and curated projects open up new ways for young minds and educators to engage with art.
Visit www.museummacan.org and the Museum's social media channels (Instagram | Facebook | Twitter) for latest updates on UOB Museum MACAN Children's Art Space.