That is the question you should be asking before you get in the car or head to the train station! We know that the hotels in Bandung have improved out of sight and are great places to really relax and forget the Jakarta city struggles, but please don't just settle down in the hotel the whole time, get out and remind yourself of the things you used to do before the huge shopping phase when the factory outlets all opened 20 years ago, and before the new theme parks and insta-places opened over the last few years! Oh wait, there may be some readers who have never been to Bandung, so we need to cover some of the absolute basics which will also remind our frequent visitors of the core attractions of this fascinating city.
Let's start with some very basic facts! Bandung is the capital of West Java Province of Java Island in Indonesia. This city is known for its striking landscapes spanning volcanoes and tea plantations. Located at an elevation of 768 meters above the sea level, Bandung experiences a pleasant tropical climate, although it has increased in temperature dramatically over the last 30 years (but its still much cooler than jakarta!) Its infrastructure is characterized by colonial and artistic architectural style, which was created by the Dutch colonialists and is in the "Art Deco" style. The Dago district in Bandung is a shopping hotspot with several fashion outlets. It has a lively vibe with cafes, restaurants, boutiques and shops. But there are many more places to explore, let's vist some of them!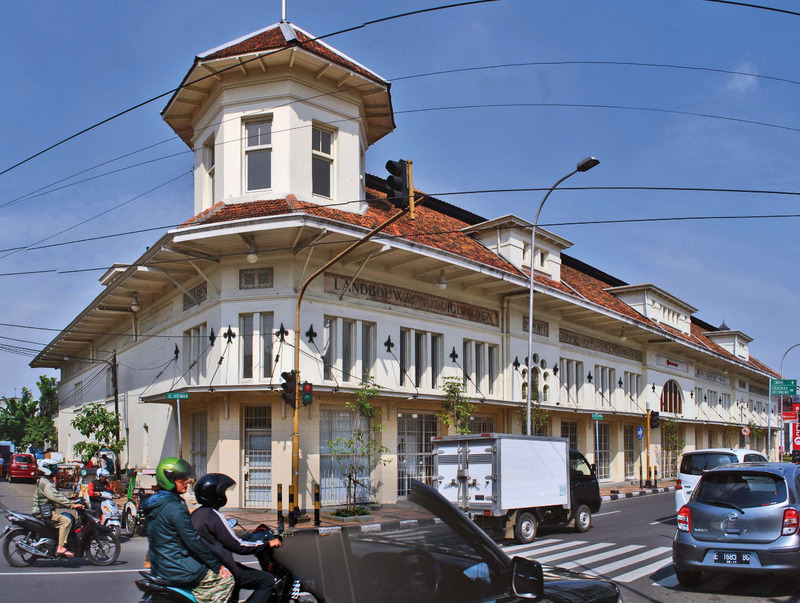 JALAN BRAGA
› Once upon a time Jalan Braga was the most prestigious street in the city. Bandung got its nickname as the Parijs van Java due to Braga Street.
Originally Braga Bandung was called Karrenweg meaning cart trail, since it was used by many two-wheels carts pulled by buffalos to transport coffee to the postal road. When Bandung transformed into a town with many rich Preanger tea planters lived nearby, Braga street became the center of the development. It was the first shopping arcade in Bandung with lots of art deco buildings to admire, plenty of high quality shops and a prestigious cinema.
Everything needed or wanted at that time, most likely could be bought at Braga Bandung. The first shop in the street was a firearm shop belonged to the Hellermann. There were several shops selling beautiful dresses as well as custom-made suits. There was a drama group that performed every weekend. A car showroom, a jewelry shop, a watch and clock shop, a few banks were all part of Braga.
People said that the golden days of Bandung as Parijs van Java was between 1920 and few years before World War II. And even today, strolling around Braga feels like taking a step back in time: a narrow street with many art-deco buildings from the early twentieth century. It is refreshing to see some of these old buildings had been renovated back to their old glory. Hopefully, the remaining buildings will also be renovated before they become ruined beyond repair. Jalan Braga is the only street in Bandung that uses cobblestones instead of asphalt. Its pedestrian walk has also been renovated with new paving blocks and many park benches. If you look up, you will see the decorated lamp posts with tigers as the mascot.
Years ago prior to the era of shopping malls, shops in Braga was well known for their high quality merchandise, especially the imported goods. First and foremost were the book stores. There were several book stores in this street. A couple of them carried university text books. Then there was Indira bookstore, which sold Tintin comic books in both the English and bahasa Indonesia versions. Djawa bookstore carried many imported magazines from Germany and craft books from Japan. Sadly, these bookstores are closed now but Djawa bookstore has been transformed into a coffee shop named Kopi Toko Djawa.
Walking on you will see many paintings displayed in front of several closed buildings. And although selling any merchandise on a pedestrian walk is prohibited in Bandung, the only exception is these painters. They have been on this street for many years. The paintings are large and beautiful, that look like part of the street decoration.
GEDUNG SATE
› Gedung Sate is one of the top tourist attractions in Bandung when considering the historical aspect of Indonesia. Since Bandung was the former capital, the place holds extreme importance as a public building. Currently, the attraction is used as the Governor's office of West Java province. To get a good idea about the culture and history, the place has become a top tourist attraction since the place immediately takes you back to old Indonesia which clearly reflects the Dutch in
Jl. Diponegoro No.22, Citarum, Kec. Bandung Wetan, Kota Bandung
JALAN CIHAMPELAS: JEAN'S STREET
› This is one of the most popular tourist spots in Bandung. It is also known as the Boulevard of denim. Jeans street is the nickname of this denim boulevard which was originally named as Jalan Cihampelas. It is located in the north of Bandung city centre and the owners of this market are known for using attractive ways to keep their clients entertained. You can find figures of super heroes like Superman, Spider-man and numerous other famous movie characters like Alladin-Jasmine and Rambo here. Tourists find it very attractive to spend a day at this street.
Jl. Cihampelas, Cipaganti, Kecamatan Coblong, Kota Bandung
LEMBANG
› A tranquil place in West Bandung, Lembang is blessed with an abundance of natural wealth and pleasant weather and is one of the top Bandung attractions. It's one of the most beautiful places to visit in Bandung, Indonesia. The cool climate and fresh air are what makes this region ideal for agricultural plantations. Lembang has many trendy little cafes where you can take amazing pictures to share on social media. Check out Lereng Anteng Panoramic Coffee Place, one of the most Instagrammable cafes. Its trademark is its outdoor area, where you can sit inside a clear tent and take in the amazing mountain views while you enjoy your cup of coffee.
Lembang, West Bandung
TEBING KERATON
› At 1200 m above sea level, Teabing Keraton is one of the most ideal places to visit in Bandung for the most beautiful view of the sunrise. You will be awe-inspired by the view of misty clouds floating over the mountains (if the air is clear!) When you are in Teabing Keraton, the best thing you can do is find a spot, breathe deeply and relax, and admire the magnificent view of Bandung and its surrounding areas, something that very few places have to offer.
Lembang, Ciburial, Cimenyan, Bandung Barat
ST. PETERS CATHEDRAL
› An important landmark of the city, St. Peters Cathedral is one of the most famous Bandung tourist attractions. Located in the heart of the city, the church, officially names Katedral Santo Petrus, is known far and wide for its unique architecture. It was designed by Wolff Schoemaker in Neo-gothic style. If you are interested in photography, St. Peters Cathedral is a great place to take some interesting and beautiful pictures. The perfect time to take amazing photos is in the afternoon before the sun sets. The light hits the cathedral, giving its facade a stunning effect. The interior is small but just as impressive as the exterior and has a great atmosphere you can immerse yourself in.
Jl. Merdeka 14, Babakan Ciamis
BANDUNG INSTITUTE OF TECHNOLOGY
› Established in 1920, the Bandung Institute of Technology (also known as Institute of Technology, Bandung or ITB) is the oldest technology-oriented university in Indonesia. It has a beautiful campus with countless trees throughout, giving students a shady spot to study, read, etc. ITB is a historical building that is worth exploring. When you go on a Bandung sightseeing trip, make sure to include Bandung Institute of Technology to your list of places to see.
Jl. Ganesha No. 10, Lb. Siliwangi, Coblong
MUSEUM OF THE ASIAN-AFRICAN CONFERENCE
› One of the most interesting places to see in Bandung is the Museum of The Asian-African Conference, which is dedicated to the Bandung Conference of newly-independent African and Asian states in 1955. It is an informative museum and an important building for a world-changing event. The Museum of The Asian-African Conference gives you a glimpse of history and is a superb place to visit during your stay.
Jl. Asia Afrika No. 65, Bandung
BANDUNG TREETOP ADVENTURE PARK
› After all this culture and history I'm sure you are wondering what to do with your family! So one of the best Bandung tourist spots is the Bandung Treetop Adventure Park. You can engage in a number of outdoor activities, like the Flying Fox challenges, which range in difficulty based on the visitor's age. It is unique from other places in the city as it offers adventure and excitement in the great outdoors.
Jl. Bumi Perkemahan Cikole, Lembang
BANDUNG HISTORICAL PARK
› Another one of the most interesting Bandung tourist places is Bandung Historical Park. If you want to learn more about the city's history, this is the perfect place to go. It is a great place to go with the family. The park has a pool for children so you can let your little ones play as you read and relax. You can also explore the small but well-maintained gardens of Bandung Historical Park. This is a great place to relax while learning about the city and its rich past.
Jl. Aceh no. 53 Babakan Ciamis, Sumur Bandung
Two the highly rated spots are :
– Keraton Cliff at Bukit Dago Pakar, which has great views and
– Kawah Putih which is described as "Mystical And Phenomenal' at Jl. Raya Soreang Ciwidey, Sugihmukti, Pasirjambu.
That is the end of our historical, cultural and family tour of Bandung, but if there are still more things you want to do, fear not Bandung is full of great attractions and …there is still the shopping and eating as well!