In this day and age, tutoring has become an accepted form of supplementary education. Students – and their parents – seek tutoring for a variety of reasons, yet within an international environment, where students often experience frequent transitions between different schools and curriculums, tutoring has become the norm.
For families coming to Indonesia from abroad, it is difficult to easily find reputable tutoring centres for their children, but A for Effort has built its reputation and become a trusted name for quality tutoring for students following international curriculums. Their experience within this niche market, and their focus on high quality tutoring sessions, has helped many students over the past few years with their academic journeys.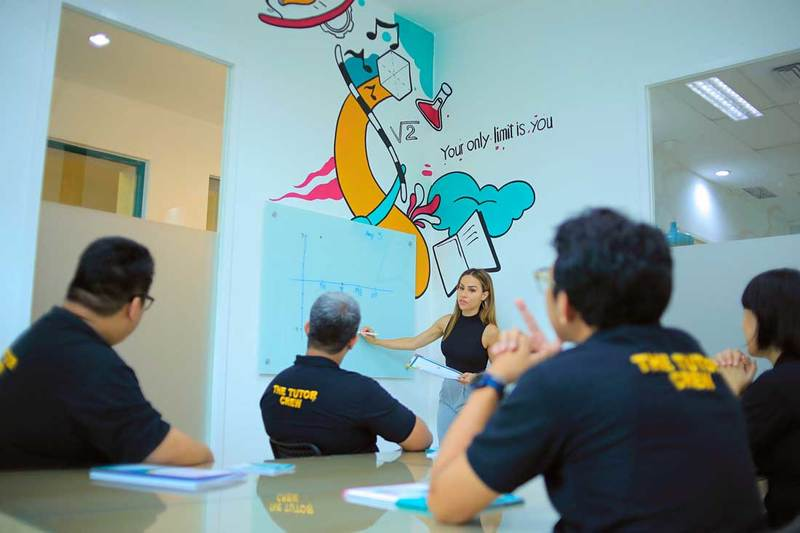 What is A for Effort?
A for Effort is a private tutoring centre in Jakarta specialising in the subjects of Math and Science. Lessons are primarily catered to students attending schools following international curriculums. Within this niche market, A for Effort provides high quality, tailored tutoring lessons in both private and semi-private formats which place a strong focus on a personalised approach. A for Effort's private classrooms in South Jakarta provide an encouraging and enjoyable classroom setting for students young and old. With its engaging and interactive approach to tutoring, A for Effort's tutors focus on enhancing the student's comprehension of the subject matter, helping them understand the material and not merely memorise.
From lessons for younger children who are being introduced to the foundations of Math and Science, to older students who are preparing for their IB or A-level exams, A for Effort ensures that students get the tailored support they need to reach their personal goals.
The Background
A for Effort was established when it became evident that there was no tutoring centre in Indonesia which was specialised in international curriculums. With the growing number of international schools throughout Indonesia, the demand for academic guidance specific to these curriculums grew likewise. Understanding the curriculums and expectations that students at international schools were facing gave A for Effort the opportunity to design specific tutoring programs for each individual student, focusing on their personal needs and goals.
As A for Effort expanded over the next few years, it opened the doors to students from all schools in Indonesia as well as students living abroad. Since both international schools as well as national plus schools in Indonesia were following an international program of some sorts, such as IB or Cambridge, A for Effort was able to extend their expertise beyond the original set of international schools it first started with.
A for Effort has taught over 10,000 lessons since it was first established in 2016 with students coming from 36 schools across Indonesia as well as abroad.
Personalised tutoring
No two students are the same and that is something that A for Effort recognises and places a strong emphasis on. Each student's profile is carefully reviewed to ensure a proper plan is in place to meet the student's specific goals and needs. Where requested, a direct line of communication is drawn with the student's school teacher in order to continuously align the tutoring lessons with the school's learning plan.
Students' needs often vary widely, and the differences are recognised and attended to by A for Effort's tutors. Some students are academically strong and are seeking tutoring in order to be challenged to the next level or to accumulate credit for them to skip courses in university. Other students may lack a thorough understanding of certain Math or Science topics, and through tutoring can get the explanations they need in order to fully grasp the concept beyond the basics.
In general, many students often lack confidence when it comes to Math or Science. This is amplified when these students are not comfortable asking for clarification in a classroom setting. Through private tutoring, students are in a comfortable environment where they do not feel embarrassed or judged to ask any question on their mind. In turn, A for Effort's tutors will help build the confidence the students might be lacking through encouraging lessons, and this enhanced knowledge has a direct positive impact on their confidence.
The Power of Rewards
No matter what their personal goals are, something that all students do have in common is that they value when their hard work and effort is recognized. A for Effort places a strong emphasis on rewarding students for their efforts and accomplishments. It has implemented various reward programs relevant to the various age groups to ensure students are always motivated, encouraged and valued for their efforts. Reward programs such as student recognition awards, achievement badges and reward charts which allow students to save up for rewards, have proven to make any student, young or old, excited about their tutoring progress.
A for Effort's monthly Math and Science challenges, where students get to compete in Math or Science quizzes and trivias against their peer groups, brings out the competitive nature of each of A for Effort's students.
More than Just Tutoring
A for Effort is more than just tutoring. With a high emphasis on quality, reliability and consistency, A for Effort's tutors undergo continuous training to ensure that the same tutoring methods and expectations are adhered to at all times. With a focus on student's individual needs and goals, each student's progress is monitored closely and evaluated on a weekly basis to ensure the correct path is followed.
Through weekly lesson updates and monthly progress reports, parents are kept informed of the student's progress. A for Effort keeps in close contact with all clients who can request feedback at any point throughout the student's journey.
The Pandemic Impact
The pandemic changed the education industry in many ways. Schools as well as tutoring institutions were forced to make a sudden and dramatic switch to online learning, and many students struggled with the online learning concept. This evidently led to students seeking additional support through private tutoring, which resulted in a boom within the tutoring industry.
Online tutoring became a new and accepted concept, and was the preferred choice for many students who chose to get the guidance they needed from the comfort of their own home. Especially in Jakarta, a city notorious for its traffic, online tutoring has become the preferred tutoring method for many students.
The Pandemic Aftermath
The pandemic impacted all of us in many ways, but students in particular are still dealing with the aftermath of 2 years of online learning. Many families reach out to A for Effort as their child has fallen behind in class, and currently not at the grade level they should be. The two years of online schooling has inevitably led to gaps in student's learning, and in particular for a subject like Math, the result can snowball, leading to an even larger set back for the student.
A for Effort has worked with many students to fill these academic gaps that students have accumulated since the start of the pandemic. Tutors at A for Effort evaluate what students need to catch up on in order to get them back at their expected grade level.
Crossing Borders
With online tutoring becoming more and more prevalent, it has also opened the doors for A for Effort to expand their tutoring services across the archipelago and even across borders. Now serving students across 4 continents, their online tutoring program has allowed students transitioning abroad to continue to receive the same personalized lessons as they had in Indonesia throughout their studies.
Engaging with A for Effort
A for Effort's private and semi-private tutoring lessons are available for students of all ages. In-person lessons can be taken at the A for Effort classrooms in South Jakarta, while online lessons are offered on the Zoom platform. Free trials are available for new students, and can be requested by contacting them directly:
A for Effort
Park View Plaza, Jl. Taman Kemang No 27
info@aforeffort.org
+62-(0)819-1100-1203
www.aforeffort.org