Mr. Fox Jakarta brings a new and adventurous cuisine, inspired by travel pieces around Asia, reinterpreted by Chef Wiem Kahyang Isha.
An imaginary character created by Ismaya, Mr. Fox, is clever, charming, and full of allure even though he is also a shy person. He always wanders the streets when he is traveling and this year, he has been trotting though Asian streets which give him the greatest joy and also become his ultimate way to seek inspiration, resulting in his distinctive version of the dishes we are now familiar with. Mr. Fox's newest travel stories give us a sense of his latest Asia voyages and now can be enjoyed as the latest dishes at Mr. Fox Jakarta restaurant.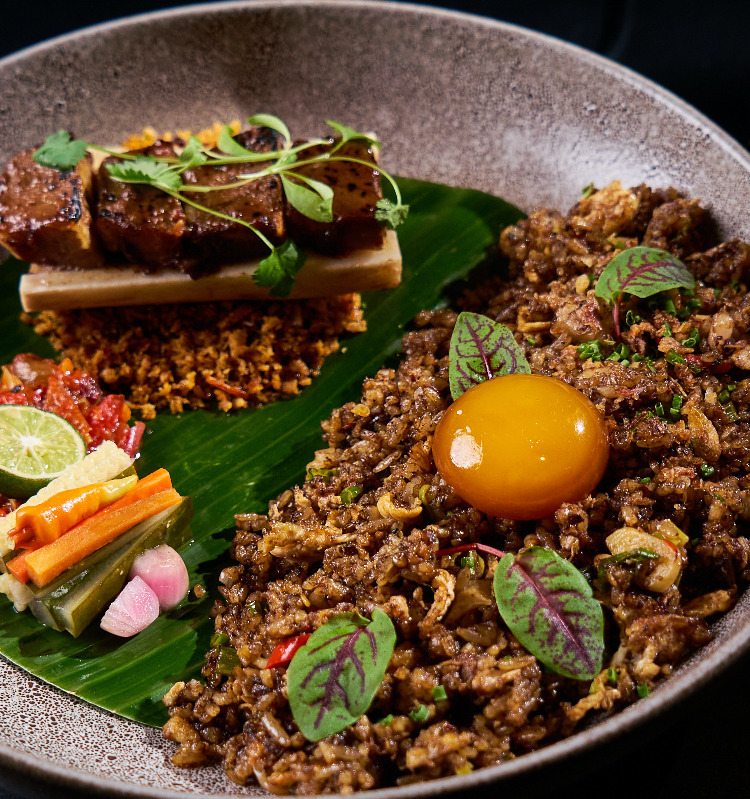 Mr. Fox Jakarta's Executive Chef who is also Mr. Fox's culinary partner-in-crime, Wiem Kahyang Isha interpretates the Fox's culinary travel stories into modern Asian flavours with a twist to bring bold flavours, fresh ideas, and reinventing age-old dishes for contemporary times.
"Through my rendition of food, I just would like to highlight my culinary partner, Mr. Fox, who has been traveling and sharing his inspiration from Asia with me. My creations are inspired by Mr. Fox's culinary adventures and from my quest in uncovering the hidden gems of street food delicacies." Said Chef Wiem.
Chef Wiem reminisces that devouring freshly caught grilled tuna with the locals would lead to inspire him to create the Smoked Ahi Tuna, fueled by his admiration of Japanese cuisine. He smokes the meaty tuna with rice, lemon leaf, and lemongrass, instead of the traditional hay. The smoky and sweet blend of yakiniku no tare is complementary by charred avocado.
Turns out that Chef Wiem loves nasi goreng kaki lima (street fried rice), so he challenged himself to create an unconventional version of nasi goreng kampung into Bone Marrow Fried Rice. He replaced the traditional ingredients with bone marrow, sous-vide and slow cooked short ribs instead of stir-fried chicken, spicy crumbles in the place of kerupuk (shrimp crisp), and shoyu egg to substitute the sunny side up egg that adds a burst of flavour.
Another interesting highlight of Chef Wiem's creation is Mala Stuffed Chicken which is inspired by Mr Fox's travels to Singapore. It's chicken roulade, stuffed with Hainan chicken rice instead of the usual ricotta and mushroom. Combining spicy mala crisps, sweet truffle, and tofu puree.
For dessert, we'll have a chance to taste Chef Wiem's own rendition of street food piscok, which stands for pisang cokelat (fried banana with chocolate) that will make everyone go bananas. All it took Chef Wiem's one trip to Pasar Mayestik for that burst of inspiration to modernize the classic piscok, his favourite dessert especially for Ramadhan break the fast into Piscok Souffle. It comprises of sous-vide banana, chocolate-coffee sauce and coffee crumbles. It's the definition of balance.
Mr. Fox Jakarta
The Energy Building, Ground Floor
Jalan Jend. Sudirman Kav. 52-53, SCBD
Jakarta 12190
T: +62 21 529 61 999
IG: @hello.mrfox