Yayasan Konservasi Alam Nusantara (YKAN) invites the wider public to take real action to preserve Indonesian seas by providing a forum for collaborative action through environmental conservation campaigns. | Photos Yayasan Konservasi Alam Nusantara
Indonesia, the world's largest archipelago, is in the heart of the world's coral reef triangle, as well as being home to the world's largest mangrove and seagrass areas. The wealth of marine and coastal ecosystems also plays an important role in sustaining the livelihoods of 60% of Indonesia's population, as well as being an effective strategy for climate change adaptation and mitigation.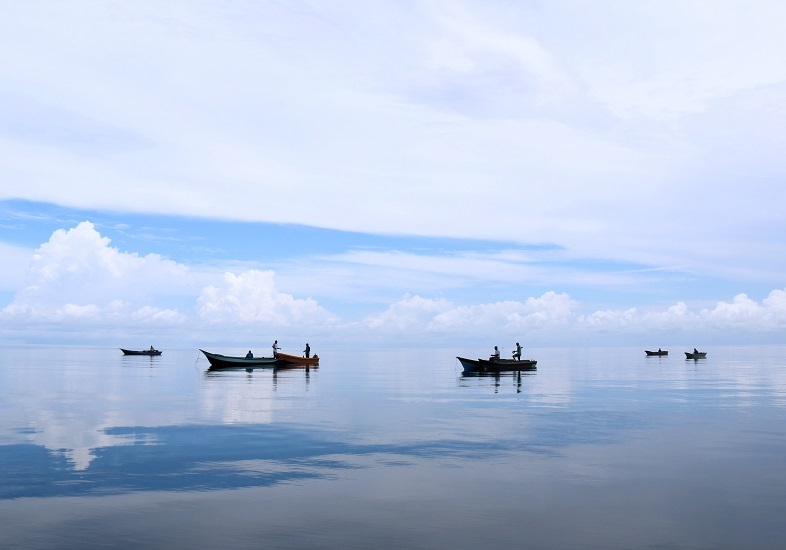 Coastal ecosystems are a source of livelihood and protection for the area from big waves and strong winds, as well as vital assets and infrastructure on the coast. There is a lot of potential in the sea and from coastal ecosystems that can be utilized through the development of the tourism, sports, and fisheries industries.
However, Indonesia's coastal and marine areas are also among the most threatened. The increasing demand for coastal and marine resources leads to unsustainable exploitation and use: unregulated coastal community livelihood practices, overfishing, climate change, and unregulated development of coastal areas for tourism, for badly planned infrastructure, and the continued and unacceptable sand and coral reef mining. These are real challenges that must be faced and ways to find solutions explored.
In fact, from its marine and coastal ecosystems, Indonesia is the world's largest producer of tuna, shrimp, aquaculture and seaweed, apart from China. Indonesia also has the largest number of fishermen and aquaculture farmers in the world and is able to export marine commodities globally. And most importantly, Indonesia's marine ecosystems have the potential to reduce 25% of global carbon emissions. According to YKAN, in Indonesia, marine and coastal ecosystems are estimated to be able to absorb 138 million tons of carbon per year – overall for Indonesia's oceans, 830 tons of carbon per cubic meter per year are absorbed by seagrass ecosystems, and 3.14 billion metric tons of carbon are stored by mangrove ecosystems.
For the second time, YKAN held a sustainable mission activity, called Misi Lestari (sustainable mission), this year, with the theme #MissionOfTheOcean (MOTO), through this YKAN invites people to care about the sea and preserve the diversity of Indonesia's marine life.
Misi Lestari is a collaborative activity in an effort to preserve the earth, by inviting all components of society to care about nature through educational daily activities. The "Mission of the Ocean" theme is in line with the global movement pushed by the United Nations in January 2021, which declared the "Decade of Marine Science for Sustainable Development 2021-2030" to support efforts to practice sustainable water management.
The campaign is also in line with support for the government of Indonesia to manage Indonesian waters in a sustainable manner, YKAN and partners are now working in Raja Ampat in West Papua, Rote in East Nusa Tenggara, Bali, Wakatobi in Southeast Sulawesi, and Berau in East Kalimantan.
"Healthy marine and coastal ecosystems become the foundation of people's livelihoods and welfare, as well as being one of the main natural capital in nature-based climate change mitigation efforts. "Coral reefs, seagrass fields, and mangrove forests on the coast act as carbon sinks. When coral reefs, seagrass fields and mangroves are maintained, other marine biota can also be preserved." explained Laksmi Larastiti, Fisheries Program Planning Manager of YKAN.
""Mission of the Ocean" is a collective mission to reorganize the connection between humans and the sea, in order to create a healthy ocean. Misi Lestari campaign, which carries the concept of four pillars, namely Environment, Educate, Engage, and Entertain, is one way for YKAN to invite the wider community to be involved in marine ecosystem conservation efforts. This invitation is carried out through fun activities with sports elements, namely running." explained Astrid Candrasari, Project Director of Misi Lestari.
In carrying out this conservation mission, YKAN prioritizes a non-confrontational approach, and builds a network of partnerships with all parties to realize a sustainable Indonesia. So how can the community participate in the campaign?
Misi Lestari 2022: #MissionOfTheOCean will be carried out in a hybrid, virtual and offline manner. Participants can take part in running activities. Runners for the virtual mission are required to complete a distance of 21 kilometers which will be held from 7 November 2022 to 27 November 2022 using the 99 Virtual Race platform.
Meanwhile, the offline mission, which is also the event for the celebration, will be held on 27 November 2022 at the Tukad Badung Reservoir Park, Denpasar, Bali. There are 3 distance options that participants can choose, namely 2.5 kilometers, 11 kilometers, and 21 kilometers. Besides being known as the half marathon, the number "21" is also a symbol of the commemoration of National Fish Day which falls every 21 November. This commemoration day is a momentum to re-understand the enormous potential of national fisheries, as well as the importance of sustainable fisheries practices. This activity is supported by Ayobantu.com and 99 Virtual Race and RunIndo.
Registration for the virtual Misi Lestari 2022: #MissionOfTheOcean is done through the 99 Virtual Race application, which can be downloaded on the PlayStore and AppStore, during 29 September to 6 November 2022. Meanwhile, registration for the Misi Lestari in Bali can be done directly on the Ayobantu platform and takes place during 26 September to 6 November 2022.
For more information:
W: www.ykan.or.id
IG: @ykan_id
FB: Yayasan Konservasi Alam Nusantara